News UK has pulled back from talks with BT regarding a partnership for the sports broadcasting business.
Discovery and ITV said to remain in contention, with DAZN seemingly the keenest of the bunch.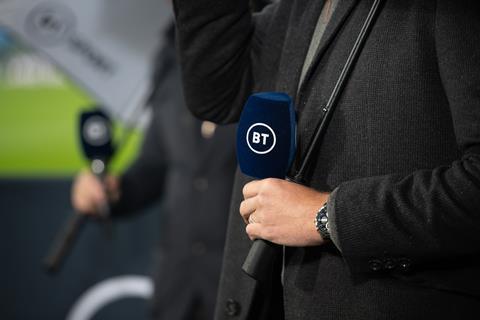 Media group News UK has confirmed that although talks were held with BT about the prospect of entering into a BT Sport partnership, these "will not be pursued any further".
BT is considering strategic options for its sports broadcasting business, having announced in April 2021 that it was exploring a part-sale.
Sources told The Daily Telegraph that News UK was in early stage talks for a "limited, commercial partnership", which was subsequently confirmed. In a statement seen by Sky News, however, News UK added that those talks have come to a close. It has not offered a reason for removing itself from contention.
Thus far, private equity players CVC and Silver Lake, which were said to be involved in early discussions, have left the table. The Daily Telegraph reports that ITV, which was also thought to have exited, remains in talks.
Sources have indicated that sports streaming specialist DAZN, owned by billionaire Len Blavatnik, has shown the most interest in a BT Sport stake, while Eurosport-owner Discovery is said to be considering an offer. Seasoned streamers Amazon and Disney are also among potential buyers, though none has issued a statement to confirm their stance.
News UK is owned by US mass media conglomerate News Corp. and is synonymous with controversial mogul Rupert Murdoch. It publishes The Sun and The Times. In recent years, Murdoch has exited other major media interests, including 21st Century Fox and Sky Group, the latter of which he nurtured over thirty years into the UK's dominant pay-TV player with a strong sports angle.
The future of News (and BT)
Partnership with BT Sport would not have been News UK's first foray into sports broadcasting — it acquired radio station TalkSport in 2017 — but it would have marked a major shift into TV. Rebekah Brooks, News UK Chief Executive, recently said that the costs of launching a TV news channel on its own were prohibitive, having seriously contemplated a launch. "It is our assessment that the payback for our shareholders wouldn't be sufficient", she told staff, according to The Guardian, stating that "we need to launch the right products for the digital age".
The potential BT partnership was questionably billed by The Daily Telegraph as an attempt by Murdoch to "secure his media legacy" as the print industry, his bread and butter since the 1950s, continues to decline. More realistically, for a tycoon who has already reaped billions of dollars from much larger ventures, it would have been an opportunity to extract value both by sharpening BT Sport as a business and through synergies with his other UK media interests.
For BT, finding a partner would go some way to relieving the financial and investor pressure of high-profile rights bids and investments. Though BT Sport is said to be close to breaking even financially and is deemed to provide broader benefits by way of brand perception and loyalty, the necessary rights acquisitions are a heavy strain and compete for funding at a time when BT is prioritising 5G and fibre infrastructure build-out, business modernisation, its pension deficit, and investor returns (BTwatch, #296 and #324).

Joseph Purnell is a Staff Reporter for TelcoTitans, contributing telecoms news analysis since 2019 as part of the TelcoTitans Editorial team.