AI-powered safety startup Machine Eye wins £75,000 proof-of-concept competition from Techstart.
Business wins grant for access to BT's private 5G network at Belfast Harbour's Smart Port development.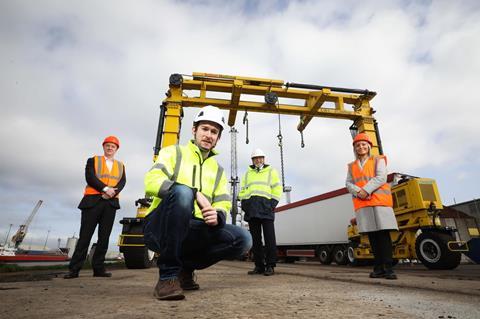 Newry-based machinery safety startup Machine Eye won a £75,000 proof-of-concept grant as part of a competition run by Techstart Ventures and Belfast Harbour, and supported by BT.
Early-stage investor Techstart will provide the funding, Belfast Harbour will serve as an environment in which Machine Eye can test its technology, and BT is offering a "package of support" that includes access to the 5G private network it is developing at the port.
Mark Gibson, Director of Business Development for BT in Northern Ireland, said Machine Eye will benefit from BT's "business expertise" as it seeks to progress beyond a proof-of-concept phase. Brendan Digney, Machine Eye's founder, added that the funding and support will enable the startup to pilot hardware and "develop capabilities" as it moves towards commercial availability.
Machine Eye provides an artificial intelligence (AI)-powered safety system for agricultural and industrial machinery. Digney described the solution as a "safety net". "By analysing human and machine behaviour, Machine Eye acts ahead of time, identifying and preventing accidents before they've a chance to develop", he said.
The grant puts Machine Eye's technology in the plans for Belfast Harbour's Smart Port goal. Supported by a strategic partnership with BT, the port aims to enhance operational efficiency by developing a 5G-powered "ecosystem", leveraging AI, data analytics, and Internet of Things underpinned by a BT private 5G network.
BT's Belfast Harbour partnership was announced in October 2020and has been presented as one of BT Enterprise's main business-to-business 5G success stories, alongside a deployment at University Hospitals Birmingham (BTwatch, #305, #308, and #317). It emerged after a 5G pilot at the port in 2019, which saw demonstrations of the network's potential to deliver virtual reality (VR) training services from BT Enterprise commercial partner VRtuoso (BTwatch, #300 and #316). Jeremy Spencer, Senior Manager of 5G Innovation at BT Enterprise, recently flagged that VR technology was still being used at the site to aid repair and maintenance tasks.

Joseph Purnell is a Staff Reporter for TelcoTitans, contributing telecoms news analysis since 2019 as part of the TelcoTitans Editorial team.