Former International Trade Minister and HSBC Chair Rona Fairhead has emerged as a contender to replace the outgoing Jan du Plessis.
Shortlist-creation reportedly still in its early stages.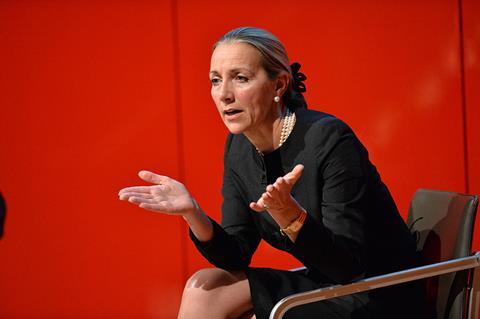 Rona Fairhead is in the running to take the BT Group chair, according to a report by The Telegraph.
BT, whose Senior Independent Director Iain Conn is leading the search for Chairman Jan du Plessis' replacement (BTwatch, #321), is said to be yet to draw up a shortlist, but the newspaper suggests Fairhead has joined Ian Cheshire as a contender.
Fairhead has held high-profile positions in both the public and private sector. Until 2019 she was International Trade Minister and is a Conservative peer in the House of Lords. After leaving ministerial office she was named Non-Executive Director at enterprise software giant Oracle.
Across her thirty-year professional career, Fairhead traversed management consultancy (Bain & Co.), finance (Morgan Stanley), aerospace (BAE and Bombardier), and chemicals (ICI), typically in finance and strategy roles, before progressing to CFO at publisher Pearson and then Chairman and CEO of its Financial Times spinoff. Fairhead has also sat on the directors' boards at PepsiCo, and had stints as Chair at the now-defunct BBC Trust (the BBC's governing body before Ofcom took over) and HSBC North America.
Though Fairhead has never chaired a public company, her experience in public office may well help her case as a potential du Plessis successor. When she left her ministerial post in 2019, she told then-Prime Minister Theresa May that she was set to resume her career in the private sector but would "seek to contribute again" in the public sector.

Joseph Purnell is a Staff Reporter for TelcoTitans, contributing telecoms news analysis since 2019 as part of the TelcoTitans Editorial team.