FTTP altnet backed by BT shareholder absorbs assets of smaller fibre builder.
Business now looking "beyond London" as it continues to accelerate growth.
Community Fibre's FTTP footprint stands at 300,000 premises.
Acquisition not impacting commercial operations or leadership structure of "independent" merger partner.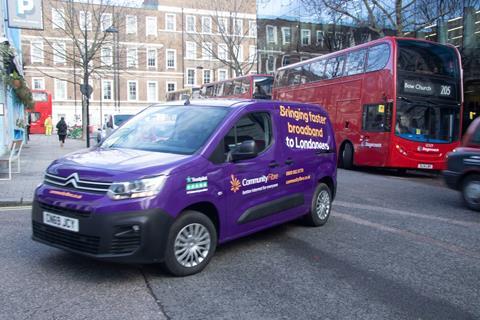 Community Fibre, the London-centric fibre altnet, inorganically grew its full-fibre footprint by about "7,000" premises after purchasing a majority stake in Box Broadband, a rival upstart based in southern England.
Community Fibre was supported on the deal by its shareholders: Amber Infrastructure; Deutsche Telekom's investment arm Deutsche Telekom Capital Partners (DTCP); Railpen Investments; and Warburg Pincus. Financial details were not disclosed.
The move extends the altnet's fibre presence to a raft of towns and villages across parts of Surrey and West Sussex, and is expected to support an "accelerated" rollout in its primary market of London.
The acquisition represents a broadening of horizons. Community Fibre sought to highlight a new target of reaching 200,000 premises in "underserved" locations across the South of England "by 2024", for which it will lean on the "expertise and experience" of Box Broadband to complete "suburban/rural build".
Box Broadband, meanwhile, will remain an "independent operational entity" and continue to provide services under the Box marque. It will, however, look to pick up the pace of fibre-to-the-premise (FTTP) rollout utilising Community Fibre's investment and "operational capacity", Graham Sargood, Box Broadband's CEO, noted.
Sargood, a seasoned telecoms consultant who co-founded Box in 2016, will continue to head operations. He was previously Sky-aligned.
Community Fibre's claims that its FTTP network now reaches approximately 300,000 households and businesses, up from 114,000 at the end of 2020. As per its annual results for the year to 31 December 2020, it is aiming for a footprint of one million premises in Greater London by the end of 2023 (BTwatch, #326).
London-centric altnet Community Fibre is ramping up operations and hiring to cater for a rising rollout run-rate (the average number of engineers employed rose from 50 in 2019 to 85 in 2020 — BTwatch, #326). It is one of several entrants to an increasingly competitive pool of UK fibre builders laying out multimillion-pound fibre projects with ambitions to challenge the dominance of incumbent Openreach and the freshly-minted Virgin Media O2.
Community Fibre sits within the "Digital Infrastructure" portfolio of DTCP, which pledged its "support" to Community Fibre's £400m capital expenditure programme in mid-2020 (BTwatch, #315), alongside Warburg Pincus. The latter appears to control Community Fibre, at both equity and voting levels, via its New York-based CEO Chip Kaye.
Box Broadband has been aiming for a 160,000-premise footprint by around 2023, serving both commercial and residential customers. According to ISPreview, it received an influx of capital from "high net-worth individuals" as part of a funding round that raised a "seven-figure sum" in 2019.
Sign of the times
Industry observers are talking-up the prospect of further consolidation and convergence in the UK fibre market. The belief is that the current fibre gold rush poses a similar state of affairs to the period of cable expansion in the 1980s and 1990s, which ultimately resulted in the creation of a consolidated player, Virgin Media, in 2006 (BTwatch, #326).

Sam Patterson is a Staff Reporter for TelcoTitans, contributing telecoms news analysis since September 2020 as part of the TelcoTitans Editorial team.