BT and Openreach staff will strike on 29 July and 1 August.
Group faces first strike action in 35 years.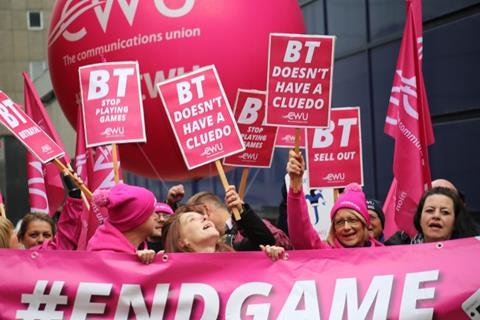 BT and Openreach staff will strike on 29 July and 1 August after the Communication Workers Union served its obligatory 14-day notice.

Confirmation arrived only 24 hours after the CWU said it would make one final attempt to draw the Group back to the negotiating table.
On 14 July, to coincide with BT's Annual General Meeting, CWU General Secretary Dave Ward issued a statement to the Group's shareholders inviting them to a meeting "to hear from the CWU directly".
"Hopefully, we can explain that we want to find a resolution to this dispute, and that we can get your support for urging this company to come back to the negotiating table — something that, unfortunately, they are refusing to do at the moment," Ward said.
Deadlines come and go
BT and Openreach staff voted in favour of strike action — with EE staff failing to meet the required 50% threshold — securing the right to launch BT's first strike in 35 years. Ward maintains, however, that the first priority is to secure a "substantial" pay rise for workers.
He gave the Group two weeks to deliver an improved offer or be served notice of industrial action. The CWU tweeted that Group Chief Executive Philip Jansen had "turned down our offer of talks" and is "refusing to negotiate, despite our huge ballot result".
Preparations underway
Behind the scenes, BT has been preparing its networks for a potential downing of tools. Speaking at the BT Networks Business Briefing in June, Chief Technology Officer Howard Watson appeared relatively unconcerned by the prospect of a strike. He claimed that BT has a "robust plan" to mitigate any impact, though he did not give any details on the measures in place, other than to claim lessons had been learnt during the pandemic.
Sky News reported that BT executives were in conversation with the CWU to ensure a commitment is made to maintain emergency call-handling services should the strike go ahead. In response, the CWU urged BT to re-enter negotiations. "You can't claim the strike will have no impact, then conduct desperate media briefings at the same time", the union asserted.