Operator to inaugurate opening of "one of first" upgraded offices under Better Workplace scheme.
"First phase" of site redevelopment completed, with hybrid working practices helping maintain operations in meantime.
Gosforth to prioritise employee welfare as a means to boost customer service.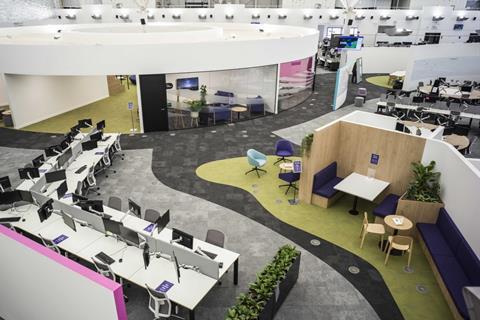 BT's Gosforth Contact Centre in Newcastle is to re-open its doors "later this year", after completion of the "first phase" of a previously flagged "multi-million-pound" refurbishment (BTwatch, #315).
Employees of Gosforth are to be among the "first in the UK" to work within a facility that has been upgraded as part of BT's long-term rationalisation and modernisation programme Better Workplace (BTwatch, #296, #314 and passim), the announcement said.
BT clarified that the refurbishment is taking place over "two stages" to offer employees the freedom of rotating between the office (in areas of the building not currently undergoing development) and remote working if they so wish.
The perks, the purpose, the possibilities…
Building work — which commenced in mid-2020 (BTwatch, #315) — has seen the installation of "full height windows" to provide the centre with more natural light, as well as a food court, a prayer room, and secluded "relax and refuel" areas (comprising a swimming pool, gaming consoles, a table tennis table, and a "small putting green").
As with other sites BT has chosen to keep up and running under Better Workplace (see below), the centre is taking a novel approach to keeping its employees healthy by providing them with an onsite "bike doctor" to encourage more "sustainable" ways of travelling to and from work.
Employees are also set to benefit from the provision of "full fibre" broadband and 5G connectivity provided by EE. BT said it hopes the upgrades will create efficiencies and boost employee productivity and, as a result, customer service.
… good and bad
Better Workplace was instigated in 2018 and will consolidate BT's scattered network of more than 300 UK offices into 30 strategically important regional centres, situated in what the operator has deemed "key locations", by 2024. Tyneside-based news outlet The Journal estimates that by choosing Newcastle as of its key locations, BT is safeguarding around "1,100" jobs. Beyond Newcastle, other confirmed host cities include Bangor, Belfast, Bristol, Cardiff, Doncaster, Dundee, Edinburgh, Glasgow, Ipswich, Liverpool, London, Manchester, Plymouth, and Sheffield (BTwatch, #319).
Whilst coronavirus restrictions are said to be delaying the opening of new regional hubs, associated steps to reduce headcount and encourage the relocation of staff have also met resistance. In fact, the Group is facing the prospect of national strike action involving members across BT, EE, and Openreach after the Communications Workers Union signalled intent to hold an "industrial action ballot" last month — a decision premised on what the union described as BT's "unprecedent and sustained assault on job security" (BTwatch, #321)

Sam Patterson is a Staff Reporter for TelcoTitans, contributing telecoms news analysis since September 2020 as part of the TelcoTitans Editorial team.