BT named technology partner for University-led climate monitoring project.
EE's 5G network put to work.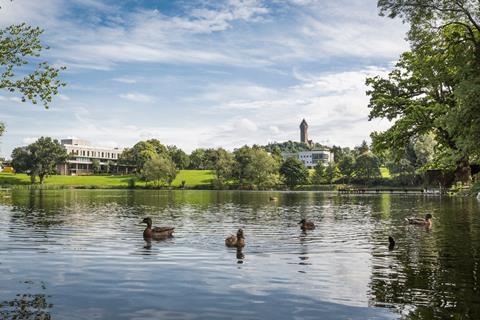 The University of Stirling partnered with BT to begin work on a "living laboratory" in Scotland — a "first-of-its-kind" project that will use EE's 5G network to monitor the local environment and gather data to drive business decisions in the Forth Valley.
Using artificial intelligence, satellite imagery, and on-the-ground sensors, information regarding water quality and quantity will be gathered and visualised using a platform developed by Northern Irish satellite mapper 3DEO.
The University has named BT as its technology partner for the project. BT has also co-funded the project, at least in its first phase, but it is not clear how much BT has invested in the initiative.
The project forms "phase one" of the Forth Environmental Resilience Array (Forth-ERA) programme, which in turn will help inform plans for Scotland's International Environment Centre (SIEC). The SIEC is a £22m (€23.8m) investment to create a research and policy hub, with an environmental business incubator and training facilities.
A BT spokesperson told BTwatch that the partnership forms part of a "long-term programme". "It will be continually developed over the coming years and BT will continue the partnership beyond the initial phase", they added. EE's 5G network may also be used for further data collation and sharing beyond this initial phase. It is currently the only operator offering 5G in Stirling.
In the long-term, the initiative's backers aim to offer data and insight into best practices for local enterprise in partnership with the Forth Valley Chamber of Commerce and regional employers. Alan Lees, Director of BT Enterprise in Scotland, described BT's involvement as helping the country and its businesses achieve a "green recovery" from the COVID-19-led downturn. Professor Andrew Tyler, the University's project lead, added that the model had potential to be exported elsewhere.
"It will provide benefits to businesses, organisations, and communities across the region — supporting the local and national economy — and become a global exemplar, delivering a solution that can be easily scaled and replicated."

Tyler.
Staying central for now
Scotland's 5G coverage is far from comprehensive, and EE's coverage does not venture farther north than Stirling — largely focused in and around Glasgow. EE currently claims limited coverage in six locations, more than its rivals. Coverage data by subscriber is not available.
Scotland 5G coverage by operator.
Operator
Scotland coverage
Source: Operators.

EE

Clydebank, Edinburgh, Glasgow, Motherwell, Paisley, and Stirling.

Telefónica UK

Aberdeen, Edinburgh, and Glasgow.

Three UK

Aberdeen, Glasgow, and Motherwell.

Vodafone UK

Bishopsbrigg, Edinburgh, Glasgow, and Paisley.

Joseph Purnell is a Staff Reporter for TelcoTitans, contributing telecoms news analysis since 2019 as part of the TelcoTitans Editorial team.