Long-running R&D tie-up gets extended, with BT's engagement with Etisalat and Khalifa University stretching a further five years.
BT Applied Research MD Tim Whitley among those involved.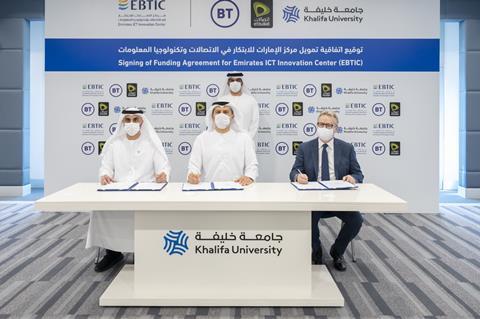 BT is to extend a long-running R&D partnership with UAE telco Etisalat and Abu Dhabi's Khalifa University of Science Technology for a further five years.
A refreshed tie-up will see the trio's jointly run Emirates ICT Innovation Centre (EBTIC) move into a "Phase 3" of operations, backed by new funding of AED 100m (£20m/€24m).
A signing ceremony was attended at EBTIC late last week by Sheikh Hamed bin Zayed Al Nahyan, Member of the Executive Council of Abu Dhabi and Chairman of the Board of Trustees of Khalifa University, according to local news agency WAM.
Dr. Tim Whitley, Managing Director of BT's Applied Research division, who sits on the facility's Board, was also present.
The partners did not break out the funding contribution made by BT — which increased its international R&D budget to £720m in its last fiscal year.
A long-standing commitment
There was little detail on the partners' future focus but artificial intelligence — or "delivering 'AI that manages AI'" — is described as one of EBTIC's "key objectives" on the centre's website. Also referenced are Phase 3 plans to explore use of blockchain for smart-enterprise services, lightweight encryption techniques, and simulation and predictive modelling for smart-society systems.
The three partners' statement quoted Paul O'Brien, Director of AI, Service, Security & Operations Research at Applied Research, as saying that EBTIC had "proved to be a very successful joint initiative". "BT has a long-standing commitment to the Middle East and we're pleased to continue to build the richness and diversity of BT's research and innovation capabilities in the region", he added.
Dr. Arif Sultan Al Hammadi, Executive Vice-President at Khalifa University, said the fresh deal will "further facilitate future innovations, encourage technology startups, and provide a platform for emerging technologies to grow".
EBTIC has been running since 2009 and is described by BT as one of five Global Research Centres that work on R&D initiatives alongside its main R&D base at Adastral Park in Suffolk (BTwatch, 2008.09).
The contract underpinning it was last renewed in 2016, with the trio of backers forming another five-year deal and reportedly committing AED 110m in funding. The facility was also expected to receive AED 70m from the UAE government's ICT Fund (BTwatch, #274).
Beyond O'Brien and Whitley, various BT staff are involved in the Abu Dhabi venture as associates:
Hamid Bafghi, Sales Specialist, BT;
Dr. Paul Crane, Director, Networks Research;
Dr. John Davies, Senior Manager, Research, Future Smart Business;
Prof. Rehan Khan, a region-focused Principal Consultant;
Dr. Detlef Nauck, Principal Researcher, AI & Data Science;
Dr. Gilbert Owusu, Director, Data & AI.
Nathan Eden and Ahmad Al-Rubaie, EBTIC's Head of Innovation and Head of Strategy, respectively, are both former BT executives.
BT Global Research Centres
Centre
Formation
Partners
Source: BT Group.

BT China Research Centre

2007

Tsinghua University, Shanghai Jiao Tong University

BT India Research Centre

2019

Indian Institute of Science, Indraprastha Institute of Information Technology Delhi

BT Ireland Innovation Centre

2017

Ulster University

BT MIT

2001

Massachusetts Institute of Technology

EBTIC

2009

Etisalat, Khalifa University
The renewal of ties comes amid a recent rejig of BT's commercial activities in the Middle East, seeing a consolidating BT Global pare back branches in Abu Dhabi, Kuwait, and Saudi Arabia, while forming a cloud communications and security-focused regional reselling agreement with Qatar's Ooredoo Telecommunications (BTwatch, #313 and #327).