Expanded partnership with GXO Logistics sees warehousing and transport requirements handed over, along with 300 BT employees.
Procurement chief Cyril Pourrat deems it a milestone in Group simplification programme.
Unions typically concerned.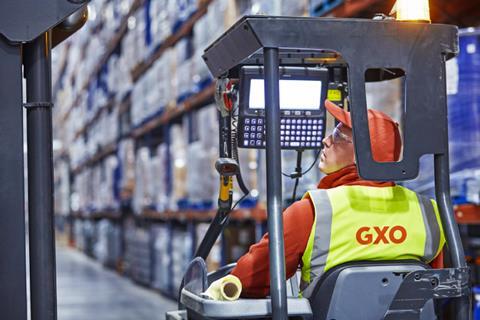 BT signed a long-term partnership with GXO Logistics, partially outsourcing supply chain management to aid the Group's simplification and modernisation agenda.
The ten-year deal will see GXO take over BT's "core" warehouse and transport capabilities, moving stock around the UK to support the Group's mobile and fixed network builds.
Some 300 BT employees in warehousing, transport, and support roles will be transferred to GXO as part of the agreement, while BT retains "critical expertise".
Gavin Williams, Managing Director for GXO UK & Ireland, said the partnership represents an expansion of an existing relationship, and positioned GXO as a "preferred partner for all core supply chain activities". "We're going to deploy our technological expertise for a new end-to-end systems infrastructure", he added.
Financial details were not disclosed, nor were details of the new systems infrastructure flagged by Williams.
BT noted that the outsourcing agreement covers logistics around the Group's network infrastructure deployments and maintenance, but not to its "final-mile" supply chain operations, or to Pelipod, its wholly owned storage box distribution subsidiary (BTwatch, #314).
GXO is the contract logistics provider spin-off of US-based XPO Logistics. Separated and publicly listed in mid-2021, GXO operates 208 million square feet of warehouse space in 27 countries, with blue-chip customers including Apple, Nestlé, and Nike. Core verticals include consumer electronics, food and beverage, and technology, with the latter being GXO's largest by revenue (and the one under which the BT contract sits). Similarly, GXO's largest revenue source geographically is the UK, surpassing home market USA in its latest results for the quarter to end-September 2021.
Following its spin-out, GXO acquired the majority of peer Kuehne + Nagel's UK contract logistics business, in a deal closed at the start of 2021. Contracts with BT and Virgin Media were among those bundled into the acquisition. At the time, XPO Logistics' Europe Chief Executive Malcolm Wilson said the company would explore new business opportunities via the inherited "high-quality relationships", which were expected to add in the region of $600m (£443m/€525m) to XPO's annual revenue.
Simplify, modernise, outsource
The GXO tie-up is the latest in a string of activities under BT's supply chain and procurement transformation programme, launched in 2021. BT Chief Procurement Officer Cyril Pourrat described the deal as an "important milestone" in this process.
So far, it has seen the creation of Pourrat's Dublin-based standalone buying company BT Sourced and substantial progress made in its efficiencies push to reach £1bn in cost savings 18 months ahead of schedule. The initiatives have also enabled the £2bn cost-savings target to be brought forward a year to the end of FY23–24 (BTwatch, #323, #330, and passim).
Not everyone's on board
The Communications Workers Union met the announcement with concern that the outsourcing exercise would detrimentally affect the BT employees it represents.
It found that 288 colleagues at two BT sites in Leicestershire and North Yorkshire were informed of plans to implement the 'Transfer of Undertakings and Protection of Employment' (TUPE) law. Andy Kerr, Deputy General Secretary at CWU, said that outsourced employees would remain CWU members, "and you'll take that into GXO with you, along with all your existing terms and conditions".
" We're strongly opposed to the decision to outsource the work to a third party and have further made it clear that we will be seeking an agreement regarding job security in our ongoing discussions. "

Tracey Fussey, CWU National Officer.
Prospect, the managers' union, shared a similar sentiment. John Ferrett, National Secretary for BT at Prospect, told The Times that it had "huge concerns that making drastic changes to BT's supply chain at this time carries significant risks".

Joseph Purnell is a Staff Reporter for TelcoTitans, contributing telecoms news analysis since 2019 as part of the TelcoTitans Editorial team.