Europe‑centric TIP moving towards the challenging deployment phase, while tempting new partners onboard.
BT CTIO Watson heralds virtues of closer operator ties to push vendors towards greater innovation.
vRAN and disaggregation among BT contributions to TIP development.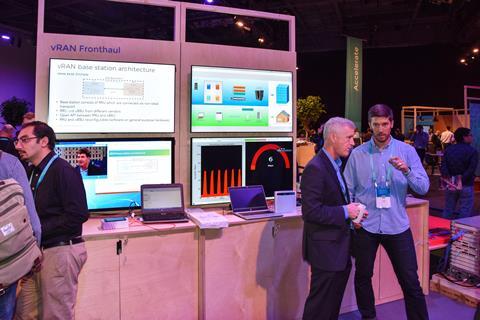 BT Group underlined its commitment to the Telecom Infra Project (TIP) through participation in October 2018's TIP Summit '18. Key figures in the Group's research and innovation function talked up the significance of the programme, and demonstrations were presented of work already undertaken to move forward towards the TIP goal of collaboratively developing a disaggregated, software‑driven transformation of traditional telco infrastructure.
The BT delegation was led by Group Chief Technology and Information Officer Howard Watson, flanked by Principal Network Architect Andy Sutton, and Principal Researcher Richard MacKenzie.
Despite the enthusiasm from the UK telco, it would be fair to say that it currently sits amidst the pack of European operators driving the initiative — Deutsche Telekom, Telefónica and Vodafone had more concrete progress to report and generally maintained a higher profile. Nevertheless, BT is showing a newfound enthusiasm for openness and sharing with its peers, and combined with its additional activities through the TIP Ecosystem Acceleration Centre (TEAC) (see separate report), is well positioned to influence, and benefit from, the Facebook‑chaperoned programme.
TIP sketch: Europe unites, and vendors take notice…
TIP Summit '18 was the initiative's third annual gathering, and first in Europe following smaller US predecessors. The event was met with enthusiasm, with perhaps around 1,000 attendees and 30 exhibitors, including demonstration booths and startups affiliated to the four TEACs (see separate report).
TIP continues to look European-skewed, in terms of tier-1 operators (Telecom Italia also features), but also with significant presence from Asia-Pacific and developing markets majors (e.g. Bharti Airtel, MTN, NTT, Reliance Jio, and SK Telekom).
Operators appear keen to participate in the more collaborative and agile world promised by TIP, as evidenced by comments from senior figures such as Deutsche Telekom's Axel Clauberg (Vice‑President of IP End-to-End & Infrastructure Cloud, and also TIP Chair), and BT's Howard Watson (see below), but the position of vendors in the programme remains at an earlier state of evolution.
Smaller vendors cleaning up in a vacuum
TIP vendor-spotting is as much about who is not visible (most majors remain conspicuous by their absence, although Cisco may now be creeping in, to join early-bird Nokia) as to who is on show (mainly challengers, startups and sherpas, plus systems integrators that naturally scent opportunity in a disaggregated world).
Mid-to-large suppliers to namecheck include ADVA (brazenly targeting adjacent segments), Aricent and Tech Mahindra (repeatedly flagged as key integrators), Intel (in its classic facilitation role), and Radisys. Accenture and Deloitte were also prominent. However, for every player in evidence, it was easy to think of at least a couple of counterparts that were not.
Like nature, though, TIP may abhor a vacuum, and interlopers such as Accelleran, Edgecore, Fairwaves, Lime Microsystems and Parallel Wireless are clearly seizing the chance to win credibility, traction and visibility through involvement in and around TIP.
Clauberg calls for unity
Reflecting the need for operators and vendors to come closer together in the communal TIP effort, Axel Clauberg hinted at a less combative stance from TIP's operator partners towards established vendors.
This conciliatory tone crystallised in calls for greater innovation, and a plea for vendors to throw their weight behind the project and help build transformational momentum.
"Our industry is actually desperate for more innovation. We definitely need to accelerate the pace of innovation. I [am not saying] that traditional vendors don't do enough on innovation. However, as a community, we can be much, much better — bringing people from the established vendors, from startups, from systems integrators, from internet companies, and from the telcos, together to collaboratively work on the telecoms infrastructure. That's what we do within TIP. "

— Clauberg.
Meanwhile Facebook, as TIP progenitor and continuing galvaniser, is omnipresent, and clearly appreciates TIP as a community where it is respected and valued, at a time when its reputation is being battered elsewhere. Nevertheless, BTwatch has also heard comment from smaller vendors that the Facebook‑driven demand for open access to intellectual property is causing caution and concern from some smaller players.
Proof of the project in the deployment
As an entity, TIP is growing its membership and advancing its projects, but it may now also be at a critical juncture as it matures; needing its operator members to continue to collaborate when projects move beyond pilots towards production and commercialisation, and for larger suppliers to step up (or in).
Although the mood was optimistic across the event, it was notable that there were some speakers that appeared upbeat, living the TIP dream, while others were more cautious on the real‑world operational challenges ahead. This distinction was apparent not just across different TIP member companies, but also among representatives of the companies themselves (for example BT's Sutton outlined challenges, while Watson focused on opportunities), underlining the potential uncertainty at the core of the ambitious project. This qualified enthusiasm should not really surprise, since BT, for example, has for at least most of this decade seemed to flip back and forth between hot and cold on 'open' initiatives, particularly when consideration shifts between development and operation.
Clauberg sees deployment on the horizon
In a blog accompanying the Summit, Clauberg claimed that many of the technologies being worked on by TIP were now "closer to maturity". As part of a wider update, he flagged five project groups as having technology trials taking place with operators:
mmWave Networks.
Open Optical Packet Transport.
OpenCellular.
OpenRAN.
vRAN Fronthaul.
In his keynote, his message was that output from TIP's various project groups had increased considerably since the previous event, and that more technologies were moving beyond the "concept stage". He told attendees that, if all goes to plan, the industry should see the first commercial deployments of TIP‑developed technology during 2019. Mass-market rollouts are slated for 2020.
BT in the mix in core TIP project groups
BT is involved in a variety of TIP projects, some in a headline leadership role, others providing facilities or other support. The main TIP project groups are listed below, with BT's known participation flagged.
TIP top-ups at a glance: BT ready to lead, and ready to follow

Project Group

Focus

October 2018 updates

Key players

Sources: Deutsche Telekomwatch and TIP.

Artificial Intelligence and Applied Machine Learning

Applying "machine-based decisioning and auto-remediation" to network operations, as well accelerating deployment of new services based on technologies such as autonomous vehicles and drones.

–

DT and Telefónica co‑chair the project.

CrowdCell

Described as a 4G relay concept in which an intermediate crowd-enabled device relays traffic between customer user equipment and the macro network. Its purported main benefit is rapid and low-cost 'plug‑and-play' small-cell deployment, using available 4G coverage.

Alpha Networks and Lime Microsystems were selected to provide an "end‑to-end" CrowdCell platform. This followed two sets of RFIs, issued by Telefónica and Vodafone.

BT Group, Vodafone, and Intel are the initial project champions, with the chair held by Vodafone.

Edge Application Developer

New group focused on developing public application programming interfaces and software tools to help developers build next‑generation mobile apps on operators' edge infrastructure.

Formation of group.

DT and MobiledgeX (a DT‑backed spinout), are the initial project champions. Intel provides project support.

Edge Computing

Focused on leveraging existing open architecture, libraries, software stacks, and mobile edge computing standards.

New trials in the BT Community Lab are testing two edge computing use‑cases: mission‑critical drone control; and high-bandwidth content caching. The project group continues with Telefónica lab trials with the goal of sharing findings by end‑2018.

Telefónica and Intel co‑chair the group.

End-to-End Network Slicing

Helping operators to overcome "many of the key challenges of employing network slicing to support their 5G services".

Publication of a whitepaper, Creating a Network Slicing Ecosystem through TIP. Defines various applications for 4G and 5G network slicing.

Initial project champions include BT, NTT, and Orange. The group is co‑chaired by BT and Hewlett Packard Enterprise.

mmWave Networks

Aiming to progress 60GHz wireless networking solutions, to address "growing demand for bandwidth in dense, highly populated cities".

Magyar Telekom (MT) published a case study on a trial deployment of Facebook's Terragraph technology in Budapest. MT and DT (MT's parent) collaborated on the rollout.

DT announced its intention to publish an RFI for 60GHz fixed wireless technology to provide gigabit connectivity.

DT is co-chair with Facebook. DT provides an mmWave Networks Community Lab and test network in Berlin. The community lab facilities are available to project group members.

Open Optical Packet Transport

The overall project aim is to define an open packet transport architecture for dense wavelength division multiplexing (DWDM) networks.

Enabling new innovation and avoiding vendor lock‑ins are priorities.

Open DWDM systems encompass: open line system and control; transponder and network management; and packet switch and router technologies.

TIP announced "general availability" of Voyager from vendor ADVA Optical Networking, running software from Cumulus Networks. Facebook bills Voyager as an "industry-first" open and disaggregated, converged packet/optical transponder.

A new sub‑group, led by Facebook and Vodafone, apparently emerged from the Voyager collaboration, called Disaggregated Cell Site Gateways (DSCG), to which BT and Telefónica are also contributing.

Within the sub-group, Vodafone, Telefónica, Orange, and TIM Brasil have defined technical needs for 5G cell‑site routers. ADVA Optical and Edgecore Networks, initial partners of the new sub‑group, committed to produce Odyssey‑DCSG to meet the four operators' technical requirements.

It unclear who is lead on the project, although Facebook and Vodafone look strong candidates. On the vendor side, in addition to Acacia, ADVA, Cumulus, and Edgecore, several suppliers are contributing to the project group in some capacity. These include Ciena, Cisco, Coriant, Infinera, Lumentum, and Juniper.

Open Cellular

Developing low-cost wireless access platforms and related technologies. The goal is to innovate on technology, engage with software projects developing solutions running on the Open Cellular platform, and support an ecosystem of original equipment manufacturers, distributors and system integrators.

Nokia and Accelleran are running project work in TIP Community Labs. Accelleran is combining the Open Cellular standard platform with its "carrier-grade" LTE software and support services, which integrate with Nokia's Kuha Community Management System. The resulting solution will be incorporated into the UK's 5G RuralFirst initiative. The immediate aim is to move from lab tests to field trial deployments.

The initial project champions are Amarisoft, BT, and Horizon Computing. Facebook is chair.

OpenRAN

The group's main objective is the development of "fully programmable" RAN solutions based on general purpose processing platforms and disaggregated software. The aim, in keeping with the TIP ethos, is to speed up the pace of innovation and avoid vendor lock‑ins.

Altiostar, Mavenir, and Parallel Wireless emerged as lead candidates to produce interoperable RAN solutions. Their selection followed a joint RFI by Telefónica and Vodafone. Field trials are planned by Vodafone in Africa and Turkey, and Telefónica in Latin America.

Vodafone and Intel are co‑chairs.

People and Process

The goal of this group is to share "cultural and process transformation practices that can materially improve operators' key metrics".

–

Bell Canada and Facebook co‑chair the initiative. Operators involved include Telefónica and Telstra.

Power and Connectivity

The initiative focuses on development of power systems that could reduce the operational and deployment expenses of remote connectivity infrastructure.

–

Facebook and Telefónica co-chair the initiative. Other participants include Bharti Airtel, Orange, MTN Group, and Vodafone.

Solutions Integration

The project — another focused on 'opening up' RAN hardware — aims to help develop an "open RAN architecture by defining open interfaces between internal components and focusing on the lab activity with various companies for multi-vendor interoperability".

–

The grouping is chaired by SK Telecom and counts Aricent, BaiCells, and Radisys as "project champions".

Systems Integration and Site Optimisation

Focused on "cost analysis, cost-effective site engineering, connectivity systems, automated maintenance and optimisation, system integration, and business/revenue models".

–

Deloitte and Facebook co‑chair the initiative.

vRAN Fronthaul

The group's aim is to build an ecosystem providing low-cost remote radio units that can be managed and dynamically reconfigured by a centralised infrastructure over "non‑ideal" transport (which does not include the common public radio interface).

Airtel, BT, CableLabs, and Telecom Italia (TI) are testing vRAN Fronthaul solutions within TIP Community Labs. They include DOCSIS (CableLabs), Ethernet (TI), G.fast (BT), and microwave (Airtel).

BT, CableLabs, Phluido, TI, and Vodafone are the project's initial champions. BT is chair. The project boasts direct support from more than ten operators.