NI Chamber of Commerce and Industry renews BT Enterprise Communications Partner status.
Deal represents "commitment" to NI, alongside office investment, according to regional Sales Director Paul Murnaghan.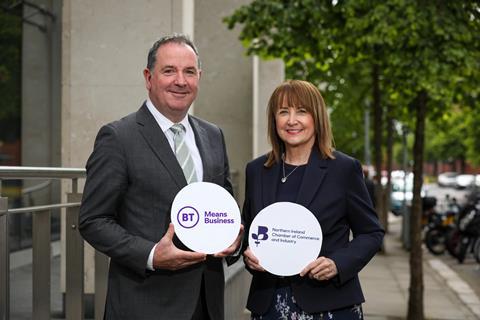 BT renewed its deal with the Northern Ireland Chamber of Commerce and Industry, signing as its Communications Partner for a further three years.
The refreshed agreement builds on a relationship between BT Enterprise and the NI Chamber that spans more than a decade (BTwatch, #294 and passim).
The NI Chamber represents the interests of local commerce with a membership of more than 1,000 businesses, totalling more than 100,000 employees.
NI other business
Paul Murnaghan, Enterprise's Sales Director for Major & Public Sector in Northern Ireland, said he hopes the partnership will "promote economic recovery and growth for businesses" in the country.
He said it reflects BT's "commitment" to Northern Ireland and pointed to the Group's Riverside Tower offices in Belfast as further evidence of the claim. The offices will accommodate 2,000 employees once a "multimillion-pound" revamp is completed. Fit-out contracts were handed out in early-2022 to begin the redevelopment, actioned under BT's Better Workplace programme (BTwatch, #324 and #334).
BT currently employs approximately 7,200 staff in Northern Ireland.
In welcoming the partnership renewal, NI Chamber Chief Executive Ann McGregor described BT as "one of the region's most significant investors".