"Commerce-at-home" service provider earns four-year contract renewal.
BT now an investor in the company as it weighs up a SPAC-delivered listing.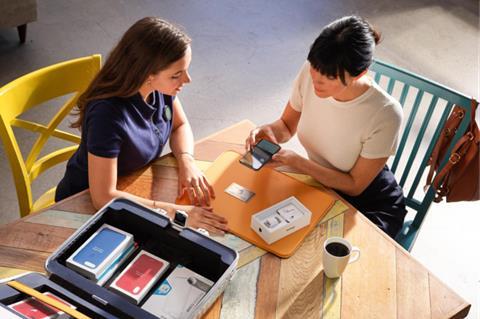 BT Consumer extended its alliance with same-day product delivery and setup service provider Enjoy Technology for another four years, taking the relationship, which began in 2018, through to 2025.
Under the partnership, Enjoy supplies EE with trained staff that hand deliver premium handsets to consumers and provide support in setting up devices, in person or via video link (BTwatch, #307). The service, now accessible to "nearly 80% of the UK population", was recently extended to support BT's fixed-line customer base.
The contract renewal was framed as a continuation of Consumer's strategy of providing "personalised and local" customer service (BTwatch, #296).
Marc Allera, Consumer Chief Executive, sought to highlight how Enjoy has enabled BT to offer the same level of support for customers "despite the closure of stores" during the coronavirus pandemic. "The value of our partnership with Enjoy is clearer than ever", he added. Enjoy employs 600 people in the UK, with facilities in 20 cities.
The new agreement was accompanied by BT investing in the California-based company, which describes itself as using a technology platform to "reinvent 'commerce-at-home'". Allera said BT's investment assures continued access to Enjoy's mobile retail technology platform, which purportedly provides staff with "real-time" inventory traceability, as well as predicative replenishment and workflow management services to help optimise service delivery.
Change afoot
Enjoy, the brainchild of Ron Johnson (former Senior Vice-President of Apple Retail), is reportedly taking steps towards financial restructuring to fuel expansion. According to a recent report in Bloomberg, Enjoy — which has so far raised "more than $350m" (£253m) — has entered talks to become a public company through a merger with special purpose acquisition company (SPAC) Marquee Raine Acquisition, with an estimated enterprise value of $1.6bn. Details are yet to be finalised, however.
Enjoy was founded in 2014 and provides similar services for AT&T in North America and Vodafone's Partner Markets affiliate Rogers Communications in Canada. Nick Hale, former Managing Director (MD) at BT Ventures, is MD of Enjoy's European division.

Sam Patterson is a Staff Reporter for TelcoTitans, contributing telecoms news analysis since September 2020 as part of the TelcoTitans Editorial team.