The S5GC was established as a 5G development hub and is chaired by former BT executive Julie Snell.
Attracted £5.3m Scottish government investment, to expire in 2022.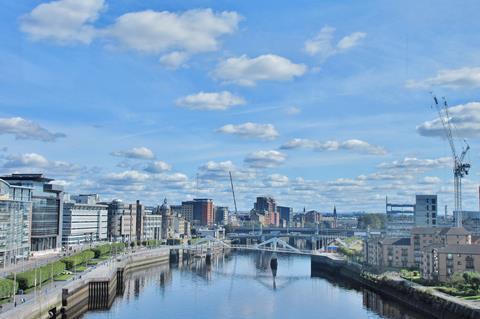 The Scotland 5G Centre (S5GC) was established as a 5G development hub in late‑2019 and aims to prepare the ground for Scotland's 5G investment and innovation programmes. It has been allocated £5.3m in funding from the Scottish government through to 2022. To date, five projects have emerged from the centre, including partnerships between local small‑ and medium‑sized enterprises, startups, operators, and universities. It is chaired by former‑BT executive Julie Snell.
S5GC programmes
Project
Focus
Telco participation
Key partners (Lead)
Funding *

Note: * Figure listed is that received from the S5GC, but projects may have received additional funding from partners, local government, and the private sector.

Sources: S5GC; TelcoTitans.

5G Scotland Rural Testbed

October 2019–March 2022

Rural testbed for testing and evaluation of 5G technologies and spectrum sharing.

–

Amarisoft

AW2S

Cisco

CloudNet IT Solutions

Ping Network Solutions

Scottish Wireless

Skylark

University of Strathclyde

Xilinx

£1.9m

5G Virtual Energy Systems Demonstrator

April 2020–June 2020

Use of the Scotland 5G Rural Testbed and Heriot‑Watt's GRID facility to showcase 5G‑enabled AR/VR for social and enterprise benefits.

Expands on the 5G RuralFirst project.

–

5G RuralFirst

Heriot-Watt University

S5GC

–

FORTH‑ERA (Forth Environmental Resilience Array)

Creation of a 5G‑enabled 'living laboratory', marking Phase 1 of the FORTH‑ERA programme, which will inform plans for Scotland's International Environment Centre (BTwatch, #316).

BT/EE

3DEO

S5GC

University of Stirling

–

Infralink

May 2020–March 2022

National programme to create tools for use across the public sector, with private sector input. Aims to support long‑term 5G development objectives, as well as more imminent, 4G‑centred Shared Rural Network.

–

Catapult

DWF

FarrPoint

Scottish Futures Trust

£1m

Innovation Districts

October 2019–March 2022

Creation of a 5G smart campus, Glasgow Riverside Innovation District (GRID). Has already begun partnerships, including with BT and VRtuoso (BTwatch, #316).

BT

Glasgow City Council

Scottish Enterprise

Scottish government

University of Glasgow

£1.6m

Total: £4.5m
Last updated November 2020.


Joseph Purnell is a Staff Reporter for TelcoTitans, contributing telecoms news analysis since 2019 as part of the TelcoTitans and Market Mettle Editorial team.
UK 5G innovation: projects, testbeds and trials
1

2

3

4

5

6

Currently reading

UK 5G innovation: Scotland 5G Centre

7