Three projects to build next‑generation connectivity into UK industry.
O2 and Vodafone take the lead.
Universities make up significant proportion of consortia.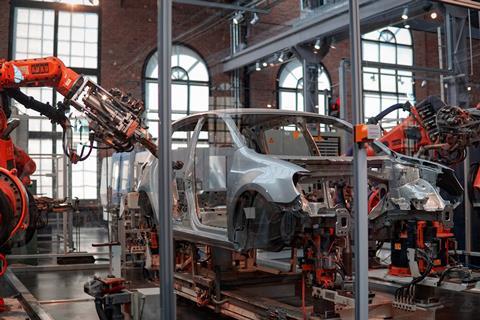 Funded by the Department for Digital, Culture, Media & Sport's (DCMS) £200m tranche for 5G innovation, the Industrial 5G call aims to bring 5G to UK industry, logistics, and manufacturing.
It continues on the foundation laid during the 2018 5G Testbeds and Trials programme, and runs alongside calls for Rural Connected Community projects and 5G innovations for the creative industry in the 5G Create programme.
Industrial 5G

Project

Focus

Telco participation

Key participants

(lead in bold)

Funding *

Note: * Figure listed is that received from the DCMS, but projects may have received additional funding from partners, local government, and the private sector.

Sources: TelcoTitans; UK government.

5GEM — 5G Enabled Manufacture

February 2020–March 2022

5G‑connected machines for real‑time feedback over private Vodafone networks at Ford's Dunton facility and engineering consultancy TWI Cambridge (Vodafonewatch, #185 and #188).

Vodafone

ATS

Ford

HSSMI

Lancaster University

TM Forum

TWI Cambridge

Vodafone

£1.9m

5G-ENCODE

February 2020–March 2022

Backing will supplement the £9m‑funded project at Bristol's National Composites Centre (Telefónicawatch, #142).

Phase One — which saw an industrial private 5G network switched on at the National Composites Centre (NCC) — was flagged in late‑October 2020.

O2 UK

Baker Hughes

Mativision

NCC

Plataine

Siemens

Solvay

Toshiba

University of Bristol

West of England Combined Authority

Zeetta Networks

£3.8m

5G RailNext

August 2019–March 2021

5G‑enabled infotainment streaming for AR/VR first on the Seoul Metro, then on the Glasgow subway.

Funding matched by the South Korean government.

–

Amplespot

Cisco

Glasgow City Council

Strathclyde Partnership for Transport

Sublime

University of Strathclyde

£1.2m

Total: £7m
Last updated November 2020.


Joseph Purnell is a Staff Reporter for TelcoTitans, contributing telecoms news analysis since 2019 as part of the TelcoTitans and Market Mettle Editorial team.
UK 5G innovation: projects, testbeds and trials
1

2

3

Currently reading

UK 5G innovation: Industrial 5G

4

5

6

7