Higher frequency cleared for 5G use.
Ametsreiter talks a gigabit 5G game.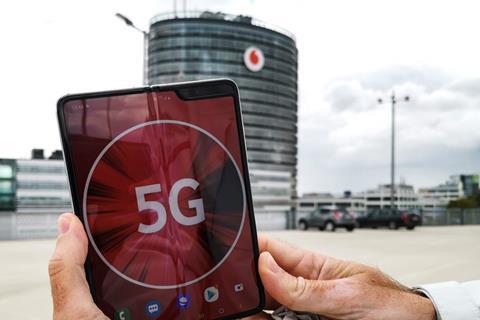 Vodafone Germany (VfD) embarked on an upgrade of existing 5G cell sites, after the Bundesnetzagentur (Federal Network Agency/BNetzA) signalled that 3.6GHz frequencies secured in 2019's rights auction were now available for use (Vodafonewatch, #177).
The OpCo reported that engineers were bringing existing base stations up to "full power" through antenna upgrades. The "modernisation" process began with the updating of 80 5G antennae in Dortmund, Düsseldorf, Frankfurt am Main, Karlsruhe, Mainz, and Stuttgart, scheduled for completion during February 2020. It was not clear when the entire project will finish, or the total number of antennae involved.
Prior to Germany's 2019 auction of 2GHz and 3.6GHz frequencies, VfD was able to utilise a 42MHz block of 3.5GHz spectrum it secured from Telefónica Deutschland as part of a fibre‑sharing deal in early‑2018 (Vodafonewatch, #163 and #177). This chunk apparently had to be handed back to BNetzA as part of the auction process. In places where the OpCo previously had 3.5GHz up and running, the 3.6GHz add‑on is seemingly a simple case of "restarting" its antennae.
While throughput depends on the location of the 5G customer, VfD claimed 1Gbps downlink speeds were possible with 3.6GHz added to its frequency mix. Hannes Ametsreiter, Chief Executive of VfD, was quick to pounce on the headline figure. "We'll bring the Gigabit wherever the Gigabit is needed", he extravagantly promised. He added that VfD's 5G service will "go turbo" during 2020.
There is some disingenuous wording going on, however. In the official statement about the 3.6GHz upgrade, bandwidth available to "Vodafone customers", under normal circumstances, is apparently 500Mbps in "many 5G locations" (without 3.6GHz antennae). Similarly, the headline Gigabit rate is only available within the radius of a fully souped‑up 5G base station.
Vodafone Germany spectrum portfolio, from 700MHz through to 3.6GHz.

Frequency band

Pre-auction

Acquired in 2019 auction

Current

Source: Vodafone Germany.

700MHz

2×10MHz

2×10MHz

800MHz

2×10MHz

2×10MHz

900MHz

2×10MHz

2×10MHz

1500MHz

1×20MHz

20MHz

1800GHz

2×25MHz

2×25MHz

2.1GHz

2×15MHz

5MHz

2×15MHz

2×5MHz

2×20MHz (from 2021)

5MHz (from 2020)

2.6GHz

2×20MHz

25MHz

2×20MHz

25MHz

3.6GHz

42MHz

90MHz

90MHz
Modernisation underway
VfD stated that its existing 5G network was now up and running in 50 cities. The OpCo aims to reach 500,000 people with 5G in Germany by the end of March 2020, rising to ten million by end‑2020 and 20 million by the end of 2021.