Timely deal for Group leadership ahead of annual update.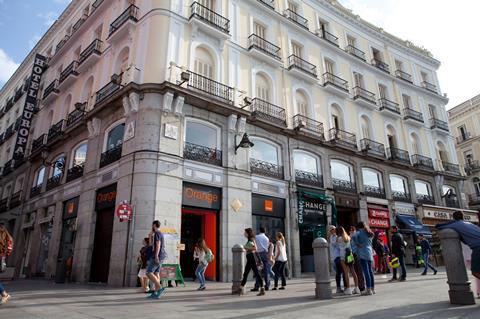 Vodafone continued a major European infrastructure overhaul, aimed at reducing 5G investment pain and wider cash pressures, with confirmation of an expanded fibre and wireless network‑sharing agreement between Vodafone Spain (VfS) and rival Orange Spain.
The deal sees the two operators significantly broaden a 3G‑focused mobile network‑sharing deal formed back in 2006, and follows on from a pilot, flagged in 2018, in which they were said to be experimenting with a new model of network collaboration (Vodafonewatch, #169).
Mobile: reach trebled
On the mobile infrastructure front, they will look to build out their current shared network footprint of 5,600 sites to 14,800, over an undisclosed timeframe (possibly as long as a decade). To achieve this, their de‑duplication focus will extend beyond small towns and villages, with 25,000 people or below, and now cover towns with populations of up-to-175,000.
This deal strata leaves room for VfS to differentiate in the largest and highest-value urban markets — now a Group 'must‑have' in network‑sharing relationships, which it is ensuring either via sole focus on sharing passive infrastructure elements in large cities (against both active and passive kit consolidation elsewhere), or by excluding key urban markets from agreements altogether.
VfS and Orange stressed the deal will establish a "more economically efficient investment model for future network deployment", and in doing so deliver cumulative capital and operating expenditure savings to VfS of "at least €600m [£518m] over the next ten years". They also aimed to present the deal as enabling the "faster deployment of 5G over a wider geographic area" — although just cutting deployment cost per se was likely the primary objective for Vodafone, amid growing signs it and other struggling European operators are going to take major hits from 5G spectrum rights auctions.
The expanded joint footprint is said to be sufficient to cover two‑thirds of Spain's population, which is pegged at around 47 million people.
Fibre: friends reunited
In wireline, the agreement includes an expansion of a next-generation network co‑investment deal struck between Orange and VfS in 2013, which originally targeted a joint fibre-to-the-premises (FTTP) footprint of six million households (but was scaled back significantly when VfS acquired cableco ONO in 2014, and appeared to shift further into the background when the OpCo subsequently formed commercial fibre relationships with Telefónica España and Másmóvil — Vodafonewatch, #126, #154, #163, and #169).
This will see VfS gain access to an additional one million households on Orange's FTTP network, beyond current arrangements — although it is not clear how far this extends collaboration overall. "Both companies have also agreed to explore potential co‑investment opportunities to expand their fibre footprint in the future", they added.
Options remain open on asset sales
Although the 2018 site consolidation project was said to have been formed with an eye towards bringing in an infrastructure specialist partner, no such outsourcing element was revealed in the operators' statement.
This may well reflect a recent change in Group‑level thinking regarding infrastructure partnerships, seeing increased openness towards national-level asset sales, rather than a European-wide strategic partnership (Vodafonewatch, #171). In its latest quarterly results presentation, Vodafone indicated it was "exploring industrial and financial opportunities" around tower operations "on a market-by-market basis", thus suggesting a Spanish tower sale remains on the menu.
Presentational boost
Group Chief Executive (CEO) Nick Read will have been especially keen to conclude the Orange deal with Vodafone's annual results presentation looming in mid‑May 2019. It covers two of the Group's major pain-points — 5G spectrum (and broader investment) costs, and under‑performance in key European markets — while also progressing one of the headline cash-preservation initiatives Read initiated in 2018, when becoming CEO.
This European tower asset restructuring master‑plan envisages the establishment of a virtual TowerCo, to sell capacity on OpCo networks, and takes in the future of nearly 80,000 sites across Europe, of which around 57,000 are Vodafone‑controlled. As a first step in the programme, provisional sharing agreements have already been formed in: the UK, envisaging a shake‑up of Vodafone UK's Cornerstone Telecommunications Infrastructure joint venture with Telefónica UK; and in Italy, via a 5G‑focused sharing project with Telecom Italia (Vodafonewatch, #170 and #171).
While potentially allowing Vodafone to extract and release value from its mobile infrastructure, the programme raises further questions over competitive differentiation limitations and reliance on partners, especially when infrastructure management is outsourced.
Country
Number of sites
Tenancy ratio
Vodafone Europe Region tower assets, selected.

Markets where Vodafone has indicated it is considering restructuring (and "monetising") tower assets.

Source: Vodafone.
OpCos
Central & Eastern Europe

9,500

1:1.4

Germany

20,000

1:1.3

Greece

2,300

1:1.4

Ireland

1,500

1:1.7

Italy

11,000

1:1.6

Portugal

4,200

1:1.4

Spain

9,100

1:1.4

JVs
Netherlands (VodafoneZiggo)

3,100

1:1.2

UK (Cornerstone)

19,200

1:1.1
In February 2019, Spanish tower operator Cellnex signalled it would be interested in buying Cornerstone Telecommunications Infrastructure Limited (CTIL) should Telefónica UK (O2 UK) and Vodafone UK decide to sell their network sharing joint venture. According to an edited transcript of Cellnex's earnings conference call, Tobias Martínez, Chief Executive of Cellnex, said the tower operator would be willing to assess a purchase of CTIL, although he stressed that a decision had not yet been made because such a transaction would depend on O2 and Vodafone's strategy. The two CTIL shareholders have already indicated they would explore a "potential monetisation" of CTIL. Cellnex already owns the UK‑based Shere Group, which manages more than 950 sites, and has made clear its desire to expand its activities further in its six main markets (France, Italy, the Netherlands, Spain, Switzerland, and the UK).