Third edition of LUCA's annual innovation event focuses on big data and AI solutions for partners.
Movistar Living Apps and Aura voice-control in the spotlight.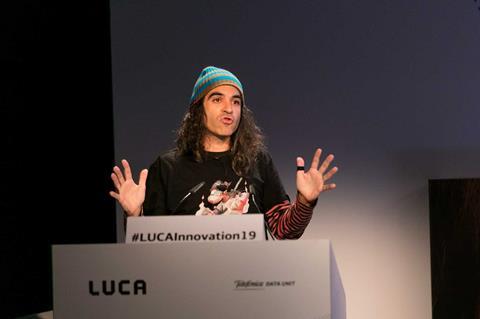 The LUCA Innovation Day in October 2019 marked the third anniversary of the specialist unit that was established in 2016 to draw Telefónica big data capabilities into a unified portfolio (Telefónicawatch, #110).
While a large part of the second edition in 2018 focused on trumpeting the achievements to date of the Group's big data outpost (Telefónicawatch, #130), the 2019 event under the Artificial is Natural banner flagged new big data- and artificial intelligence- (AI) based products and solutions for the corporate sector.
"The use of artificial intelligence has allowed us to transform ourselves as a company. Now we want to help businesses build their own artificial intelligence."

— Chema Alonso, Chief Data Officer, Telefónica.
The spotlight was placed on new services such as Movistar Living Apps. The aim here is to enable partners to create digital services that can be accessed via a television or Movistar Home hub using Telefónica's Aura digital assistant with voice control. Consumers then can activate the requisite service using the 'OK Aura' voice command.
Organisations that have already created services for Movistar Living Apps include Air Europa, Atlético de Madrid, El Corte Inglés, Iberia, and La Liga. Movistar services are also available, including information about billing and personal content, saved in Movistar Cloud.
Artificial suite
Also on show was LUCA Suite, although descriptions of this offering are somewhat opaque. Telefónica describes it as an AI solution "that allows greater quality and efficiency in big data projects thanks to the automation of the algorithmic model training process". Its aim, it seems, is to enable big data projects to be launched more quickly and at lower cost.
Meanwhile, the AI Wizard was presented as a new tool to help with marketing campaigns, and LUCA Comms (previously flagged — Telefónicawatch, #135) was said to allow enterprises to optimise their call centre and communications resources.
Solutions aimed at advertising, financial, industrial, logistics, retail, tourism, and transport sectors were also demonstrated at the event.
Elena Gil, Chief Executive of LUCA, did not miss the opportunity to highlight the unit's achievements to date. Over the past three years, LUCA has completed more than 620 projects for over 340 clients within at least 14 sectors across 18 countries.