Arch Summit 2019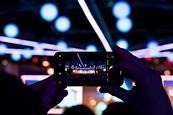 Events
Arch Summit now established as a forum for Vodafone suppliers and partners. Wibergh teases-out Vodafone's Technology 2025 strategy; fuelled by 'radical simplification' mantra, 'Technology Communications Company' goal. VPC's Wilson walks-the-digital-walk with SCM Control Centre; outlines multi-dimensional supply chain (and partnering) vision. £50m-budget Group Foundation getting commercial with VBV investment ...

Strategy & Change
Johan Wibergh, Chief Technology Officer of Vodafone, used the Arch Summit to provide a teaser on the Group's coming "Technology 2025" strategic update, and a glimpse into leadership's latest thinking about how it can protect revenue and relevance as challenges continue to mount.

Strategy & Change
Ninian Wilson, Global Supply Chain Director at Vodafone, used his keynote at Arch Summit to highlight ongoing digitisation of Vodafone Procurement Company's (VPC) internal functions as it continues to spearhead efforts to drive cost out of the Group's P&L.

Strategy & Change
Vodafone's Group Foundation is adding a new, "commercial" layer to its Connecting for Good strategy, with the establishment of a dedicated investment vehicle called Vodafone Business Ventures (VBV).

Strategy & Change
The Group is refreshing its defensive commercial strategy. Marginal-gains mission handed to all OpCos and central functions.

Content & TV
Pay-TV – where the Liberty acquisition promises to make Vodafone Europe's second-largest player behind Sky – was highlighted at Arch Summit as a particular point of leverage for the Group when it comes to strengthening its consumer proposition.

Events
Arch Summit now established on startup event circuit. Wide range of entries: newborns to scaleups; leftfield to serial entrepreneurs. Industry judges impress by out-performing the celebrities.

Strategy & Change
Cramer says more collaborative, matchmaking approach to partner innovation is paying off. Lessons learned from Group's stifling of past startup acquisitions and investments. Technoport indicates Vodafone links adding value.

Events
Ericsson steals the show, after years in Huawei and Nokia's shadows. Ninian Wilson emphasises NPS as awards-driver.

Special Report
Tomorrow Street's Arch Summit 2019 hosted the 2018/19 Vodafone Supplier Awards in Luxembourg last night, in what is becoming a customary part of the annual event aimed around bridging the gap between corporations and startups.

Events
CEOs in Cars - Warrick Cramer talks about the Arch Summit 2018