TMUS partner Smith Micro completes its work on the new SafePath 7‑based FamilyMode 3.0 product.
TMUS launch on SafePath 7 provides vendor with 'migration blueprint' for rival operators.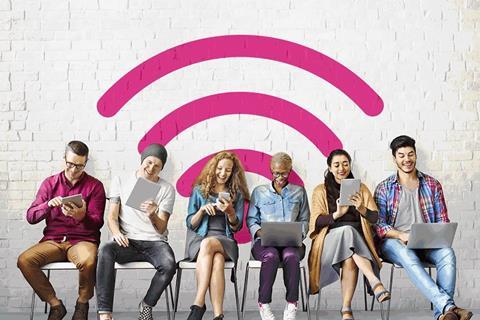 T‑Mobile US (TMUS) parental control app partner Smith Micro Software confirmed that a new white‑label FamilyMode 3.0 offering based on the vendor's SafePath 7 software will go live "in the next few weeks", although this suggests that the launch could be delayed once again.
FamilyMode 3.0, which had been expected to go live in mid‑2021, was anticipated to launch "as early as possible in Q1 FY22", according to Smith Micro Chief Executive William Smith. However, his comments in the vendor's latest earnings call on 10 March 2022 (according to VIQ FD Disclosure) could be interpreted as a signal that the product may not be up and running before the end of the month.
Smith nevertheless appeared upbeat about the upcoming launch, noting that SafePath 7 applications have already been submitted to and approved by the Apple App Store and Google Play.
Everything is "well set up and ready for the launch", Smith said, and indicated that the matter is now in TMUS' hands. "The only thing left for us to do is support them as they hit the launch button".
Smith also remarked that the introduction by TMUS of SafePath 7 "will set the stage for future deployments of the platform with our other Tier 1 customers in the U.S. and Europe", noting that a migration of AT&T and Verizon customers to the SafePath platform "is one of our key initiatives for 2022".
He added that the TMUS launch "provides us with a migration blueprint" for the NatCo's rival operators. In particular, he noted that AT&T is eager to roll out a new Family Safety service based on the platform.
Unified approach
Smith Micro Software finally secured a deal with the NatCo in November 2021, after a long period of commercial negotiations following on from the Sprint takeover in April 2020 (Deutsche Telekomwatch, #100 and #104).
FamilyMode 3.0 will represent an upgrade to TMUS's existing FamilyMode offering, which is underpinned by technology from Circle Media Labs, whose operator business was acquired by Smith Micro in February 2020 (Deutsche Telekomwatch, #92).
Smith also indicated that the vendor will be working with TMUS to bring together all of the NatCo's Family Safety applications onto a single platform, and believes this will drive revenue growth for both partners.
Indeed, this ties with previous comments from Smith, who signalled that its April 2021 acquisition of the Family Safety Mobile business of Czech digital security and privacy specialist Avast will feed into the new offering. Smith Micro has been pitching this as a platform for TMUS to "unify" outgoing legacy Sprint products, such as Sprint Family Locator, within FamilyMode 3.0.
James Kempton, Chief Financial Officer at the vendor, also pointed to a change in the pricing structure under the new TMUS contract to a "variable pricing model".
"We believe that this change in fee structure in conjunction with the anticipated marketing efforts to add subscribers, should drive revenue increases on the FamilyMode offering in the coming quarters", Kempton said.
Smith Micro has previously indicated FamilyMode 3.0 will feature new "best‑in‑class" parental controls and additional functions to help monitor and manage minors' screen time. Further upgrades will include location‑based services such as real‑time tracking and location history. The Avast buyout gave Smith Micro access to the former's portfolio of mobile family safety services, including content filtering, location features, and screen‑time management. The vendor has claimed this secures its position as the dominant provider of family safety services to mobile operators.

Anne Morris is a freelance journalist, editor and translator. She has been working as a reporter and news analyst for TelcoTitans since 2016.